Since its origin, Lancaster has been a crossroads where agricutlure, commerce, manufacturing, and social life come together. In 1730, Lancaster City was laid out with an open-air public market in the center of town. Lancaster was a large and affluent inland city by the late 18th century and early 19th century and it became a regional center for the production of rifles, iron, glass, clocks, furniture and other decorative arts. This production—whether it took place in the craftsman's shop or the entrepreneur's factory—transformed Lancaster from a frontier town into a prosperous and sophisticated community.
---
John Frederick Steinman, Sr. (1752-1823)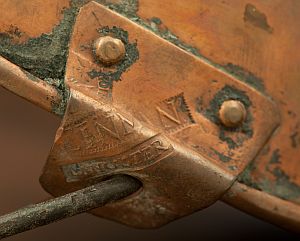 When his father died in 1758, John Frederick Steinman, Sr. (1752-1823) moved with his mother to Lititz from his birthplace, Bethlehem, Pennsylvania. His mother remarried a few years afterwards to John Christophe Heyne, a tinsmith and pewterer from Lancaster.
Pewter and Copper Goods and Other Sundry Items
While Heyne and Steinman are both recognized ifor the metal objects they crafted, they also created something else unique in Lancaster City. In 1744 John Christophe Heyne first opened the door of his shop and began keeping records of his business. John Frederick Steinman, Sr. worked and learned the metal-working trades alongside of Heyne and would take over this shop until Heyne's death in 1781. This shop not only produced goods such as these kettles and Heyne's pewter, but also served as a hardware store to the surrounding area.
Read more: John Frederick Steinman, Sr. (1752-1823)
The Pennsylvania Longrifle
The first Pennsylvania Rifles were made by craftsmen that had come to Lancaster from Germany. The German immigrants brought with them crude hunting rifles that they improved upon—precision spiral groves inside the longer barrel reduced bore diameter, improved sights, and lubricated patches to envelop the bullet. They created the most accurate rifle in the world at that time, accurate at distances over 200 yards. As early as 1745, there were several riflemakers operating in Lancaster city, and 40 throughout Lancaster County. The number doubled with the need for rifles in the Revolution.
Early settlers needed accurate, reliable firearms that could withstand daily use—to hunt game and for protection from wild animals and lawbreakers. In fact, a Pennsylvania Rifle was a significant investment, the second highest expense next to the home. Lancaster was a major supplier of military weapons during the Revolutionary War. However, by 1830 these handmade, flintlock rifles were replaced by more reliable factory-made percussion rifles.
From Paths to Roads to Highways to Canals to Railways
Before the Philadelphia-Lancaster Turnpike, the 60-mile journey took almost four days. After the completion of the turnpike in 1794, travel was much faster and easier. It was the nation's first turnpike—made with a hard stone base. The completion of the 17-mile Conestoga Canal in 1825 enabled goods to be taken by boat from Lancaster to Safe Harbor. In 1834, railroads came to Lancaster with the construction of the 82-mile Philadelphia, Lancaster, and Columbia Railroad.
Lancaster is a Market Town
In 1730, Lancaster was laid out with an open-air public market in the center of town. At the street level, there was a through-arcade accessing the large open-air market. The current Romanesque Revival market house, called Central Market, was built in 1889 featuring ornate brick and stonework.

As early as 1717, Conestoga wagons were being designed and built by local craftsmen to move freight, enabling the nationwide migration of settlers for almost 150 years. Conestoga wagons were up to 18 feet long with an upward curve, like a ship's hull, preventing contents from shifting. The large rear wheels were ideal for crossing creeks and rolling over large rocks; smaller front wheels made turning easy.