Private Caley, Reporting for Duty!
Last Updated: 14 October 2014
Created: 26 July 2010
written by Kris Rost, Archives Volunteer
MG-47, the Pvt. George L. Caley Collection is now available for research. Letters in the collection start February 23, 1943 while Caley was in basic training and end September 23, 1945 while he was with the Third Army in Europe.
Prior to joining the Army Caley was a student at Millersville State Teachers' College and a resident of Columbia. He lived with his Great Aunt and Uncle, worked at a local factory, and was a member of the Salome United Brethren Church.
While most of his mail came from friends and family living in Millersville and Columbia, he also received letters from friends in Kansas, Florida, New York, the Philippines, England, and eventually Germany. Classmates, hometown friends, and fellow servicemen shared their experiences with Caley the same way he probably shared his with them.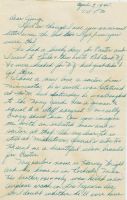 The letters tell a great story of life in Lancaster County during World War II. Millersville University and Franklin & Marshall College found the make-up of their student body changing. With fewer male students the female students found themselves taking on new roles. For instance, several young ladies wrote to Caley about how they would perform the male roles in their semester plays. Residents shared information about their daily lives, like their new jobs working for Hamilton Watch Company making parts for the military, planting victory gardens, and dealing with rationing and shortages. In one letter from his Aunt Lill, she shared a story of how she bought a chicken for Easter dinner. According to Aunt Lill, chickens were in such demand at the store in spring 1945 that she refused to put hers down until after she purchased it, afraid that someone would take it away from her.
Like many collections of letters from this period, the Pvt. George L. Caley Collection paints an excellent picture of life on the home front. This collection also highlights the lives of the young people that stayed behind going to school, working in factories, and starting families. Happy researching!