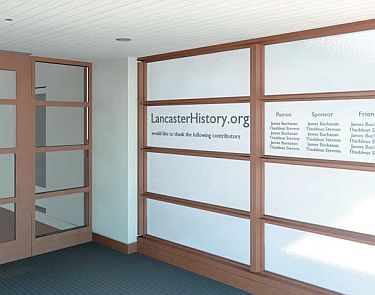 Architects have completed their design of the permanent donor walls that will be at the main entrances of the new LancasterHistory.org building. Elegant etchings in glass will greet members, donors and visitors every day at the new building reminding all that generosity made this wonderful facility possible.
There will be a special "Major Donors Wall" of glass thanking all donors who make gifts of $3,000 and more (Remember, gifts may be pledged over a period of up to 5 years). All donors of $500 and more will be recognized as "Founding Donors" and their names will be included on a special etched wall of glass that will be a permanent feature in the new building.
There are still many wonderful naming opportunities for donors who make gifts of $10,000 and more. Gifts may be made in honor of or in memory of a loved one, partner or friend. Please contact Robin Sarratt for more details at (717) 392-4633, ext 117
LancasterHistory.org thanks the many people who have already pledged to this campaign, and to those who are considering gifts as we close in on our campaign goal. Campaign efforts will continue through 2012, so you still have time to be a part of history!
Use the button below to make a single contribution of any amount!