A Rose by Any Other Name

1906-1914:   A Rose by Any Other Name
A Team Without a Name
Rumors of new uniforms for the Maroons spread long before the start of the1906 season. Days before the season opener against York's White Roses, the new uniform was displayed to the public in the window of a downtown store. With its white shirt and pants, dark blue stockings, and dark blue cap with a white "L" embroidered across the front, the new uniform made the "Maroon" name obsolete. Fans, owners, players, and the press suggested nicknames that were more appropriate for Lancaster's ball club. The Great White Giants seemed the most popular given the height of some of the players that year, but no pre-season consensus was reached.
A New Season, A New Team
The York White Roses manager, Charlie Heckert, publicly denounced Lancaster's team and predicted that Lancaster would end the season in last place, as it had the previous year. But 1906 brought a new manager, Fred Crolius, to Lancaster and a renewed effort to create a winning team. Optimism ran high during the pre-season exhibition games.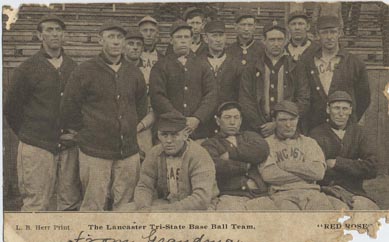 Opening Day: The Birth of the Red Roses
The entire city stopped to watch the opening game against Lancaster's rival, the York White Roses. Factories closed down, parades rolled down the streets, and more than 3,500 fans showed up at the Rossmere grounds. The members of Lancaster's underdog team arrived proudly wearing their new uniforms. Newspaper reporters latched onto this war between the roses, and zealously applied a new nickname to the city's team. The Maroons blossomed into the "Red Roses" and defeated York, 9 to 4.
The 1906 Lancaster Red Roses at Rossmere Park.
The first Red Roses.
Lancaster County Historical Society
---
1906 - 1912, 1914 Lancaster Red Roses
Tri-State League
1906 - 70 wins, 57 losses; Fred Crolius, mgr.
1907 - 73 wins, 53 losses; Clarence "Pop" Foster, mgr.
1908 - 72 wins, 55 losses; Clarence "Pop" Foster, mgr.
1909 - 75 wins, 39 losses; Martin "Marty" Hogan, mgr.
1910 - 63 wins, 47 losses; Martin "Marty" Hogan, mgr.
1911 - 54 wins, 54 losses; Martin "Marty" Hogan, mgr.
1912 - 59 wins, 52 losses; John Castle, mgr.
1914 - 26 wins, 83 losses; Ed Hooper, mgr.