Education and Public Programs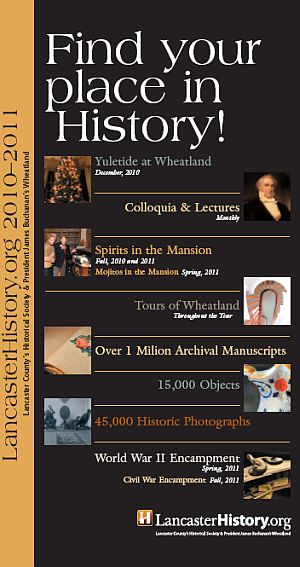 In 2008 The Lancaster County Historical Society was awarded a grant from the Institute for Museum and Library Services (IMLS) to assist us in pushing our educational opportunities to the next level. Education is now at the forefront of everything we do. So whether you're involved in research, taking a closer look at a moment in history, or searching for that piece of evidence from the archives, we can be of help. Let our experienced staff help you access our extensive collections. Take a course, catch a special lecture, or travel with us to Scotland. Programs are ongoing and always evolving. Opportunities abound. Join us as we experience history.
Click here to download the 2010-2011 brochure !
Funding for our programs is generously provided by the Institute for Museum and Library Services, the Pennsylvania Historical and Museum Commission, and the National Endowment for the Humanities.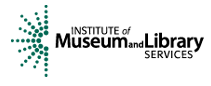 Institute of Museum and Library Services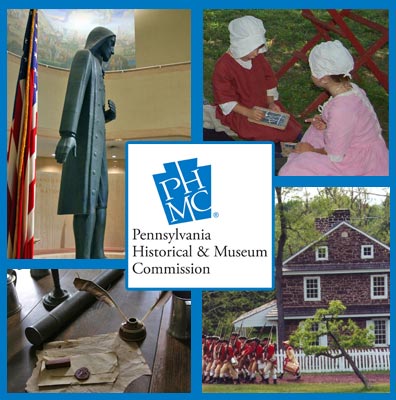 Pennsylvania Historical & Museum Commission
News in Education and Programming
Trace Your Family History at the Campus of History!
September 18, 7-8:30pm, (class) Exploring Your Heritage through Expatriate Newspapers
Instructor: Kevin Shue, genealogist
A new wave of exploration has spread across the country. This new offering developed by LancasterHistory.org genealogist Kevin Shue traces family history through the use of Expatriate Newspapers.
September 25, 6:30-8:30 pm, (class) Basic Genealogy: Unlocking Your Family's Past
Instructor: Marge Bardeen, Director of Library Services
Learn the basics of genealogical research. No Lancaster County connections required. Discover how to gather and organize information and use vital and census records to build your family tree.
October 9, 6:30-8:30 pm, (class) Intermediate Genealogy: Digging Deeper
Instructor: Marianne Heckles, Research Asst. & Photo Collection Coordinator
Examine records available nationally and at the historical society, and learn more advanced research techniques.
Prerequisite: Basic knowledge of genealogy.
October 23, 6:30-8:30 pm, (class) Advanced Genealogy: Tackling Genealogy Problems
Instructor: Kevin Shue, genealogist
This advanced course addresses the use of military records; the focus is on analyzing and solving genealogical problems. Includes citing sources and the genealogical proof standard.
Prerequisite: Intermediate knowledge of genealogy
Courses held at 230 N. President Avenue
Members $15
Non-members $20
Call 717.392.4633 for details and reservations