The Lancaster Campus of History
LancasterHistory.org—Lancaster County's Historical Society and President James Buchanan's Wheatland—has experienced more than a decade of pronounced change and growth, made possible by strong leadership, innovative educational programming, exceptional strategic planning,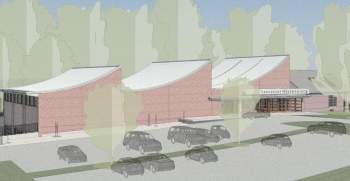 first-rate historical collections, and enthusiastic support from the community.
The Lancaster Campus of History will build on the strengths of LancasterHistory.org, and will transform Lancaster County's official historical society and Wheatland, a National Historic Landmark and the home of Pennsylvania's only U.S. President, into a new national model for historical learning and public programming. It will place Central Pennsylvania at the forefront of a movement exploring foundational themes of American history by demonstrating the relationship between local, regional, and national stories, events, and people, creating a center for critical reflection on America's past.
Read more...

Green...and Greener
Concern for our beautiful natural surroundings is a cornerstone for LancasterHistory.org. The new addition will utilize a variety of green initiatives to meet electrical needs, geothermal resources to heat and cool buildings and green roof technology to insulate the building and enhance the surrounding natural environment. Green design and building also have positive efficiency and cost-reduction attributes, helping to reduce heating and electrical expenses.
Read more...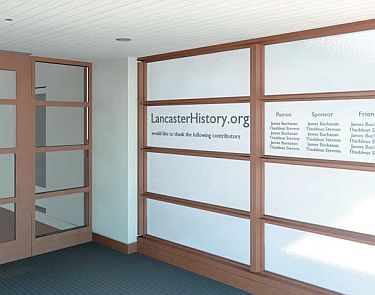 Architects have completed their design of the permanent donor walls that will be at the main entrances of the new LancasterHistory.org building. Elegant etchings in glass will greet members, donors and visitors every day at the new building reminding all that generosity made this wonderful facility possible.
There will be a special "Major Donors Wall" of glass thanking all donors who make gifts of $3,000 and more (Remember, gifts may be pledged over a period of up to 5 years). All donors of $500 and more will be recognized as "Founding Donors" and their names will be included on a special etched wall of glass that will be a permanent feature in the new building.
There are still many wonderful naming opportunities for donors who make gifts of $10,000 and more. Gifts may be made in honor of or in memory of a loved one, partner or friend. Please contact Robin Sarratt for more details at (717) 392-4633, ext 117
Read more...