Beck, Julius Augustus (J. Augustus Beck) (1831-1917)
Julius Augustus Beck was born in Lititz in 1831 to parents John Beck, a well known educator and head of Lititz Academy, and Johanna Augusta Reinke Beck. As a young man in the early 1850's, he pursued sculpting and went to Rome to follow this idea. In Rome he studied under Thomas Crawford and at the English Life Academy as well as below Hiram Powers in Florence, Italy. It was also at this time that he went "tramping" (also known as hiking or backpacking) 200 miles through Switzerland with well known Lancaster merchant Charles F. Hager. When he returned from Europe he worked in Major Charles M Howell's marble yard finding joy in carving elaborate mantelpieces and lovingly sculpting tombstones.
Julius married Susan Maria Kepple (1833-1908) and together they had eight children, 4 boys and 4 girls. A few of the boys would go on to create works of art but none quite as prominent as the first son Abraham Raphael Beck. A. Raphael Beck as he was also known, is best recognized for his emblematic designs for the Pan-American Exposition, the Louisiana Purchase, and the 1905 Centennial Lewis and Clark Exposition. He also painted President William McKinley's last portrait which is now housed in the Buffalo History Museum.
Julius was commissioned to do work in for the 1902 White House renovation, presumably by McKim, of the famous McKim, Mead and White Architect firm, who was heading the renovation. Beck was asked to carve a large mantelpiece for the State Dining Room that would replace the two mantels installed by James Madison. In 1909, however, Theodore Roosevelt had the lions that Julius choose to adorn the mantel with remodeled into buffalo heads to fit in with his "American" theme complete with taxidermy animal heads on the walls. The mantel was later replaced by a green marble fireplace and presumably dismantled when it was moved to the Truman Presidential Library as it is now remains in pieces. The Kennedy's implemented a smaller version of the 1902 mantle but, it was complete with the buffalo heads not the original lions. He also did another work in Washington for the Washington Monument in the form of a commemorative carved stone. This stone was named "Hippocrates refusing the bribe" as presented by the American Medical Association and is now housed in the Smithsonian Institute. It is unclear why the stone is not with the other commemorative stones that adorn the inside walls of the monument. One of the most beloved sculptures by Beck was the local landmark Lititz Spring Lion that was unfortunately vandalized beyond repair in 2005. Julius had been trying to replicate the Lion of Lucerne in Switzerland in the native limestone but, the stone was too hard and only a face could be completed. In honor of his original intent and to turn the vandalism into a positive, the citizens of Lititz raised funds to commission a new lion in the style of the Lion of Lucerne which in turn has brought even more attention to the monument.
While Julius was well known for his sculptures, he was also a talented painter. Having painted well over 50 portraits of important Pennsylvanians and national figures that are hung in many historical societies and museums across the state, he made a name for himself as an artist. Some of the subjects of his portraits include: Lindley Murray, David Ramsey, Benjamin West, William Henry, and James Hamilton, all copies of previous paintings. He was also took joy in painting landscapes in his free time with particular interest in the Susquehanna River area.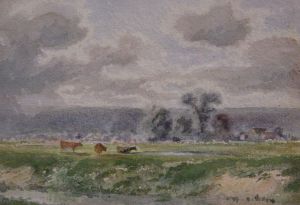 J. Augustus Beck, circa 1880.
Collections of LancasterHistory.org.
Gift of Wesley T. HammerWorks at LancasterHistory.Org:
4 water color landscapes
Portrait of Daniel Tyler Willson
1 black and white water color and pencil landscape
Works held by other institutions:
39 portraits in The Pennsylvania State Museum
3 portraits in the Moravian Historical Society
Washington Monument Commemorative Stone-Smithsonian Institution, located at the National Mall adjacent to 14th street between Constitution Ave. NW and Independence Ave DC.
Sources:
Blankenbiller, Kathy. Tragedy to Triumph. Lancaster Online-News 6 July 2006. LancasterOnline. Web. 26 Mar. 2015.
Iris Club Lancaster PA HSLL. Loan Exhibition of Historical and Contemporay Portraits. Lancaster. 111. 1912. New Era Printing. Lancaster, PA. Print.
Know Your Local Artists Scrapbook. 1936. LancasterHistory.Org Archives. MG434 Box 083
1917: J. Augustus Beck, sculptor of the Lititz Springs Lion, dies. LancasterOnline.com. 3 Sept. 2013. LancasterOnline. Web. 24 Mar. 2015.
(Contributed by Elizabeth Hornberger)