Visit LancasterHistory.org's Research Library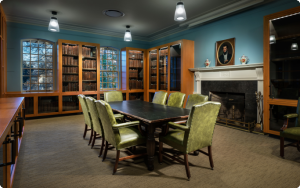 LancasterHistory.org's Research Library is a research facility of genealogical and local history materials. Containing over 15,000 volumes, the collection also includes maps, family files, subject information files, microfilm, and CDs. A wide variety of manuscript documents, Lancaster County records and Lancaster City records are also available for research through our Archives and over 70,000 photographs are available in our Photograph Collection.
The Research Library is located inside the headquarters of LancasterHistory.org on The Campus of History which is located at the intersection of Marietta and North President Avenues in Lancaster, Pennsylvania. There is ample off-street parking available. The grounds also feature President James Buchanan's Wheatland, Wheatland's Gardens and the popular Tanger Arboretum, which features more than 100 species of trees from around the world.
Hours of Operation
Monday - Saturday: 9:30am - 5pm; Closed on Sundays.
Closed on Major Holidays. Please click here to check if there are any closings.
Closings because of inclement weather will be posted on our automated voice mail system or the homepage of our website. Call 717-392-4633.
Admission
Admission to the Research Library is available only at-door. Prices for admission seen below.