House History

The familiar adage "if walls could talk" often comes to mind when we enter an old or interesting house. When was the house built? How has the house changed? Who lived in the house? What function did the house play in the lives of its inhabitants over the years?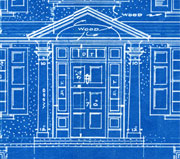 These questions and more arouse our curiosity. The answers to many of these questions become apparent as we systematically examine the physical evidence of the house and study the extant written records that document its existence in time and place. Tracing the history of a property and learning about the people who lived on the property can be fascinating.
Our house history website is designed to help you learn how to research the history of your house. In addition to the tutorial, we have also included several case studies of Lancaster County buildings. These examples show various architectural styles as well as the cultural and economic diversity reflected in the building construction. Although Lancaster County buildings have been chosen as case studies, the process of conducting a house history is similar throughout the United States.
The Ressler Mill Foundation and the John Bickford Foundation have generously provided funding for this project.