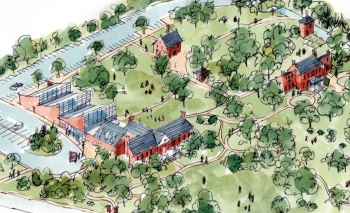 Find Your Place in History!
On the Campus of History you will learn about Lancaster—one of America's oldest cities, founded in 1730—and the unfolding of nearly 300 years of remarkable history. From stories of the Conestoga Indians and the Underground Railroad to the political legacy of James Buchanan and Thaddeus Stevens to the stories of your own family, Lancaster's history has something to offer every visitor to the Campus of History!
LancasterHistory.org exists to engage and educate the public about the people, places, and events that shaped Lancaster County within the context of the history of the Commonwealth of Pennsylvania and the United States of America. We collect, preserve, exhibit, and make accessible materials chronicling Lancaster County's complex and illuminating past.
As a member of LancasterHistory.org, you will have exceptional access to:
THE LANCASTER CAMPUS OF HISTORY

Visit the park-like setting on the ten-acre Campus of History featuring the historic grounds and gardens of President James Buchanan's Wheatland, the Louise Arnold Tanger Arboretum, and the award-winning and environmentally-sustainable headquarters of LancasterHistory.org.

PRESIDENT JAMES BUCHANAN'S WHEATLAND

Learn about the life and legacy of James Buchanan, the 15th president of the United States and only President from Pennsylvania, and the family he raised at his beloved home, Wheatland.

CONGRESSMAN THADDEUS STEVENS

Discover the life and legacy of Thaddeus Stevens, champion of Civil Rights and Education, and his partner Lydia Hamilton Smith.

THE DECORATIVE ARTS

Explore three centuries of art and history through exhibits in Groff, Stoudt and Gerhart Galleries, and Ryder Hall. See the treasures held in the Richard C. von Hess Decorative Arts Center, including the Heritage Center Decorative Arts Collection and the Esprit Collection of Amish Quilts.

LIVING HISTORY PROGRAMS

Enjoy a wide range of learning opportunities: public history programs, encampments, historical re-enactments, specialty tours, school-focused tours, exhibitions, classes, lectures, and films.

ARCHIVE AND LIBRARY

Explore a full-service Research Library and Historical Archive to help you discover your family's history and your community's past.
To learn more about membership or how you could support LancasterHistory.org, please visit our membership sub-categories found on the right hand side of your screen.