School Group Tours
At LancasterHistory.org, our tours, modules, and workshops will help your students further develop their math, critical thinking, and creative skills by exploring 19th century culture and Lancaster's unique contributions to American history.
Special Student Tours
The Presidency, Politics & the Coming of the Civil War

50 minutes; recommended for Grades 7-12
Description: Explore President James Buchanan's Wheatland and discover the dilemmas and decisions that this controversial president faced during the challenging times leading up to the Civil War.

Victorian Life in the Home of 15th U.S. President James Buchanan

50 minutes; recommended for young children and students up to Grade 8
Travel back in time to the year 1857 and explore the home of 15th U.S. President James Buchanan. Period objects, clothing, and images help tell the story of life during this very unique time.

Tour of the Exhibition, FREEDOM: "to secure the Blessings of Liberty"

45 minutes
Students tour LancasterHistory.org's newest exhibition and explore the many faces of freedom gained and freedom denied in Lancaster County over the course of 300 years. Unique objects, manuscripts, and artifacts tell the stories of struggle, survival, joy, and hope from Penn's Holy Experiment through the 21st-century.

Tour of the Archives, Up Close & Personal

45 minutes
Home to over 1 million archival manuscripts, students will examine primary sources connected to local history and see how they are stored and preserved in the archives.
*Please note that tours can always be shorted to 30 minutes to better serve small children and accommodate tight schedules.
Lancaster Campus of History Field Trip Modules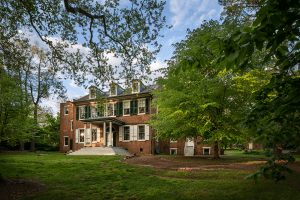 Educators can choose from a day on campus (5 hours) or half day on campus (3.5 hours) and choose from several different modules to create a unique experience. Module length is typically 30-40 minutes per module.
"It's Elementary, Watson"

Students use their deductive and inductive reasoning skills to determine the use of Victorian-era artifacts.

"Get Out The News"

In small groups, students will put their creativity to work by creating an advertisement for a Victorian artifact.

"Live, from Wheatland"

Students will present an advertisement to a live audience of their peers and see if they can sell their Victorian artifact.

"Mirror, Mirror on the Wall"

Students will be introduced to symmetry through the observation and drawing of President James Buchanan's home, which is a fusion of Federal and Greek Revival architectural styles.

"It's a Dog's Life: A Day in the Life of Lara"

After learning about Lara, President Buchanan's Newfoundland dog, students will imagine, brainstorm, and write a creative story about "A Day in the Life of Lara."

"Mary, Mary, Quite Contrary, How Does Your Garden Grow?"

Students review their measuring skills by finding the length and width of each raised garden bed and then calculate the perimeter. In addition, students will be introduced to the use of herbs, both in the 19th-century and today.
Lancaster Campus of History Workshops
A stock certificate issued to John S. Giviler for one share from the Sicily Island Fishing Club in Drumore Township. March 1880.

Digging Deeper: Using Primary Sources in Historical Research

3 hours in length; Middle School and High School versions available
Students examine multiple primary sources on varied topics including Thaddeus Stevens, President James Buchanan, First Lady Harriet Lane, the Quakers, the Underground Railroad, and the Hubley Toy Company of Lancaster. Small groups will then examine one topic closely to make inferences, draw conclusions, begin to develop hypotheses, and present their findings to a larger group.

Sleuthing Through The Past

1-2 hours in length, depending on grade level; Elementary, Middle, and High School versions available
Students play detective in search of clues as they examine estate inventories, artifacts, and historic events to better understand the past. What do these historic items tell us? What don't they tell us? The workshop also examines conflicting and limited evidence that one may encounter when studying history. Workshop stresses observation skills, critical thinking, analysis, and synthesis.
*All offerings are aligned with PA Standards in History, Social Studies, the Arts & Humanities, and English Language Arts. Common Core & Critical Thinking Skills are stressed.
---
Book Your School Trip Today
If you would like to learn more about any of LancasterHistory.org's school group tours, modules, or workshops, including their pricing, please contact Stephanie Townrow, Museum Educator at (717) 392-4633 Ext. 131. We look forward to seeing you and your students soon on the Lancaster Campus of History!