Visit LancasterHistory.org's Galleries
Explore three centuries of art and history through exhibits in Groff and Gerhart Galleries, Stoudt Gallery, Ryder Hall, and see the treasures held in the Richard C. von Hess Decorative Arts Center, including the Heritage Center Decorative Arts Collection, and the Esprit Collection of Amish Quilts.
The Galleries are located inside the headquarters of LancasterHistory.org on The Campus of History which is located at the intersection of Marietta and North President Avenues in Lancaster, Pennsylvania. There is ample off-street parking available. The grounds also feature President James Buchanan's Wheatland, Wheatland's Gardens and the popular Tanger Arboretum, which features more than 100 species of trees from around the world.
---
Current Exhibition on Display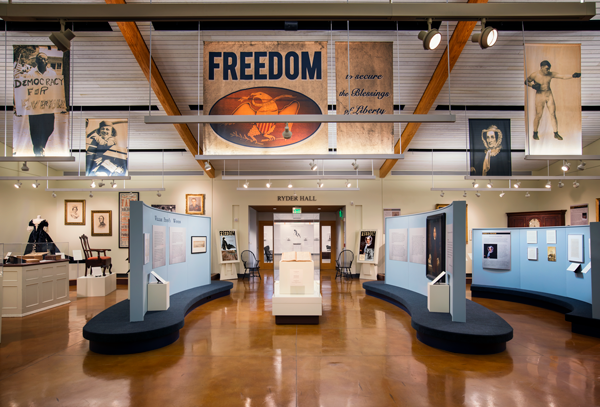 FREEDOM: "to secure the Blessings of Liberty" explores the stories of Lancastrians who sought freedom, fought for freedom, lived in freedom, and were denied freedom over the course of 300 years. They are stories of hope, joy, struggle, and survival from Penn's Holy Experiment through the 21st century. While exploring Lancaster County's past, we invite you to contemplate what freedom means to you.
We are most grateful for the support of the Richard C. von Hess Foundation, Marian Ranck Gerhart, the E. Ann Klein Charitable Trust, the National Endowment for the Humanities, and the Pennsylvania Historical & Museum Commission (PHMC) in the creation of this exhibit.

From left to right: Congressman Thaddeus Stevens' clubfoot boot; the House of Worth Gown worn by former First Lady Harriet Lane Johnson; and historic books featured in the Freedom exhibition.
Hours of Operation
Monday - Saturday: 9:30am - 5pm
Sunday: Closed
For any closings, particularly around the holidays, we encourage you to visit our "Closings" webpage before making your travel plans.
---
Admission
To purchase tickets to view the exhibitions, please click the "Tickets" button below. Admission to the galleries is available via a "General Admission" ticket. Included also with your purchase of a General Admission tickets is a guided tour of Wheatland. You can also visit the Galleries with a Family Museum Pass from the Lancaster Public Library (valid for Lancaster County residents only; click here for more information).