"Little Shop of Horrors"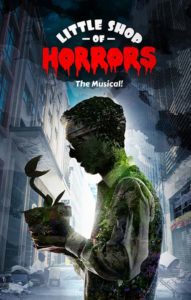 A psychedelic comedy thriller from the Academy® Award-winning musical team that brought you Disney's Beauty and the Beast, The Little Mermaid and Aladdin begins just in time for Halloween! Working on skid row presents its own challenges, but Seymour is also secretly in love with his co-worker Audrey and he would do anything to get her attention and gain her affection.  When he stumbles upon an unusual plant, he affectionately names Audrey II, life as he knows it will never be the same. Audrey II (the plant) becomes a sensation and Seymour wins fame, fortune and finally the admiration of Audrey (the girl). Just as Audrey (the girl) escapes the abuse of her sadistic dentist boyfriend, she finds herself trapped yet again. Feed your need for musical hilarity with this delicious gem, but whatever you do, DO NOT FEED THE PLANT!
What does Little Shop of Horrors have to do with Lancaster history?  Find out by joining LancasterHistory.org for Thirsty for History Thursday at the Fulton Theatre on Thursday, September 28!  Before curtain on the second Thursday of each major Fulton production, LancasterHistory.org will make the connection between each play and local history.
To enjoy a fantastic performance and an entertaining historical social hour, purchase your tickets by calling the Fulton Theatre at 717-397-7425.  If you are member of LancasterHistory.org, mention your membership to receive a 10% discount.  (Members must call to receive the discount.) A wine and cheese reception begins at 6:30pm on Thursday, September 28, followed by a presentation by Dr. Tom Ryan at 6:45pm. The main performance will begin at 7:30pm.
Photo Credit: Visit Lancaster (featured photo) and The Fulton Theatre (play poster).
September 28, 2017
The Fulton Theatre, 12 N. Prince Street
6:30pm
Determined By Fulton Theatre