Explore The Collections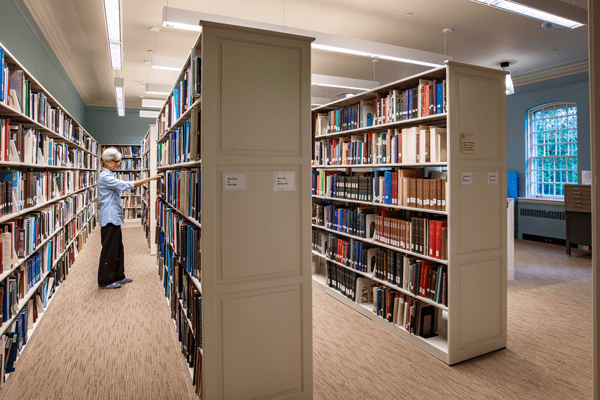 Collecting and interpreting the history of Lancaster County is at the heart of LancasterHistory.org's mission. Through primary sources and artifacts from Lancaster's past, we aim to create context for understanding the story of Lancaster County and its place in state and national history.
To view what collections are available online, please click Collections in the menu at the top of this webpage. Please keep in mind that what you will find online only scratches the surface of the whole of our collections. We encourage patrons to visit in person to make the best use of our resources, services, and knowledgeable staff.
Visiting The Research Library
The Research Library at LancasterHistory.org is a facility full of genealogical and local history materials, containing over 16,000 volumes and 2 million manuscripts including maps, microfilm, family files, and much more. Our staff are extremely helpful and knowledgeable, having a combined 97 years of experience in the field.
HOURS: The Research Library is open Monday – Saturday, 9:30am – 5pm. Items from Archives may be requested up until 4:30pm. We encourage patrons to double check our Exceptions to Hours for days when the library may be closed or closing early.
Admission is available at the Campus of History Front Desk; no advanced reservations required. Prices are available on our Hours & Admission page.
Policies & Procedures
Upon arrival to LancasterHistory.org, patrons who wish to conduct research in the library are required to purchase admission at the Front Desk and deposit all bags and outerwear in self-service lockers or the coatroom before entering the library. Patrons are permitted to bring their laptop, pencils, cellphone, files, books, etc. into the library. Patrons may also wish to familiarize themselves the library's general policies and procedures prior to arrival.
---
Item Appointments & Donations
If you would like to see a particular historic artifact up close that belongs in Special Collections, please schedule an appointment with a LancasterHistory.org staff member. One such popular item that requires an appointment is the LeFevre Bible.
For inquiries or appointments to view or donate archival materials (such as paper manuscripts and Bibles), contact Heather Tennies.
For three-dimensional objects, contact Tori Pyle.
If you wish to donate an item to LancasterHistory.org, please view the information found on our Ways to Give page in the section "Donate Objects."
Recent Acquisitions
LancasterHistory.org's collections are always expanding thanks to our donors and supporters. To view recent acquisitions, please click the appropriate PDF below. A year's worth of acquisitions will be available online before they are archived.
*This section is currently under construction. Please stay tuned.*
Archives Acquisitions, January – May 2017