The Extraordinary Give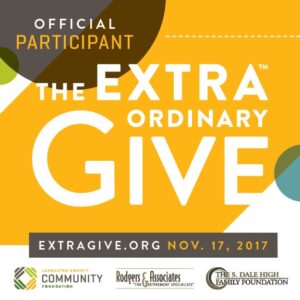 The Extraordinary Give, Lancaster County's largest day of online giving, returns on November 17, 2017. From 12 midnight to 11:59 PM, every dollar donated will be stretched by at least $500,000 from the Lancaster County Community Foundation, Rodgers & Associates, the S. Dale High Family Foundation, and more generous sponsors!
LancasterHistory.org is once again participating in the Extraordinary Give. Have questions about donating during the Extraordinary Give, visit this helpful Rules & FAQ page.
CLICK TO DONATE ON NOVEMBER 17
Please Note: For a donation to count towards the Extraordinary Give, the gift must be made online using a credit card through the Extraordinary Give website (https://extragive.org/). From there, donors may search for the non-profit they wish to give to.*
Join us at the Ware Center in downtown Lancaster from 5-8pm for Benchmark Construction & Ware Center's ExtraGive Party!
Off-Site Event Family-Friendly Explore & Celebrate
November 17, 2017
Online
All Day