The Susquehannock Indians
The Susquehannocks once dominated south-central Pennsylvania and the lower Susquehanna Valley.
Power and Appearances
Around 1575, the Susquehannock Indians aggressively replaced the established Shenks Ferry Indians. The tribe's first contact with European settlers came in 1608 when Captain John Smith explored the Chesapeake Bay and met sixty Susquehannock warriors whose size and variety of weapons impressed the captain. European contact grew substantially and by the 1640s the Susquehannocks found themselves in an advantageous position as participants in the booming fur trade.
Surrounded by Enemies
By the 1650s, the Susquehannocks found themselves surrounded by enemies – the Iroquois to the north and increasing European pressure to the south. The power of the Susquehannocks suffered after a smallpox epidemic decimated the tribe and, by the 1670s, the few remaining Susquehannocks fled to a new home in Maryland or were absorbed into the Iroquois tribe. Those who went south faced frontier treachery and atrocity in backwoods Maryland and Virginia.
The Last of the Susquehannocks
Around the turn of the century, a small contingent of Susquehannocks resettled to a village in Manor Township, Lancaster County. Known by the name of that village, these Conestogas lived there for about sixty years. At Conestoga, Quaker settlers converted some to Christianity, and most of the remaining traditional Susquehannocks moved north or west. The last twenty Conestogas were killed in Lancaster by an anti-Indian mob, the Paxton Boys, in 1763.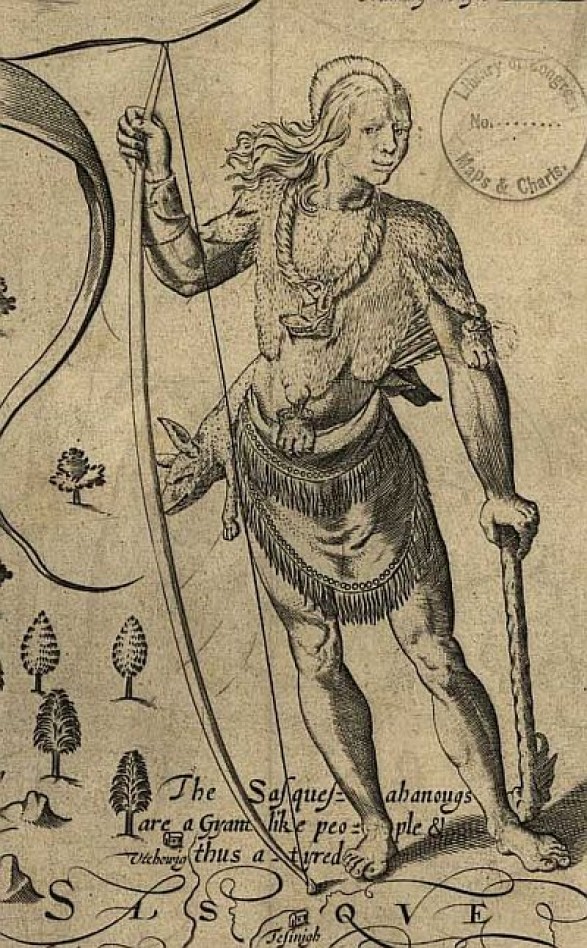 Detail of John Smith's 1608 map
The Susquehannocks lived in a series of agriculturally-centered villages, each with a population between several hundred and several thousand. They excelled as hunters and as warriors--a necessity given their antagonism toward the group from which they had split, the Iroquois of New York. [Image Courtesy Library of Congress]