Welcome to the Library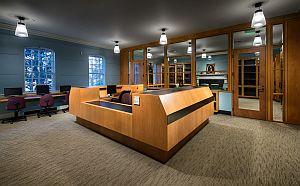 The Library of Lancaster County's Historical Society is a research facility of genealogical and local history materials. Containing over 15,000 volumes, the collection also includes maps, family files, subject information files, microfilm, and CDs. Take a moment to orient yourself to our collections with a brief overview of What's in the Library. A reference collection consisting of indexes, genealogical and historical journals, and books is available for browsing. All other books are housed in closed stacks and must be requested at the reference desk. Author, title, and keyword access to library material is through the library catalog or our new Discovery Tool, which also allows searches of the historical societies archival, manuscript, photograph, and object collections.
Our new web site allows us to offer more features and access to more information. We've recently updated our research guides to assist patrons in identifying possible sources of information; we've added a list of periodicals and journals we currently receive, and we accept genealogical research requests via the web site. We invite patrons to explore our links to other local, regional, and out-of-state historical organizations and research resources.
If you have questions or comments regarding our collections, services, policies or procedures, or would like to donate material to the library, please don't hesitate to contact me. If you have a reference question, please contact the research desk.